Terms to know:
Natural hazard = a natural event or process that can cause loss of life and/or damage to property and disruption of human activities (e.g. earthquakes, landslides, wildfires and tsunami)
Hazard mitigation = sustained actions taken to help reduce or eliminate long-term risks to life and property caused by hazard events.
Common Mitigation Actions
Promoting effective land use planning based on identified hazards

Adopting and enforcing building codes and standards

Buying flood insurance to protect personal property and belongings

Securing shelves and water heaters to walls

Elevating structures above the floodplain

Retrofitting structures to withstand winds and earthquakes

Acquisition and demolition of structures in flood-prone areas

Construction and maintenance of roadways, culverts and dams

Acquisition of undevelopable, hazard-prone lands

Development and distribution of educational materials

Construction of detention or retention ponds
Why do we do it?
Investing in hazard mitigation makes good sense. In addition to the benefits of preventing loss of life or injury, a study by the National Institute of Building Sciences, Multi-hazard Mitigation Council documented that every $1 spent on mitigation saves an average of $6 in future reduced losses. This savings increases to $7 for flood mitigation projects.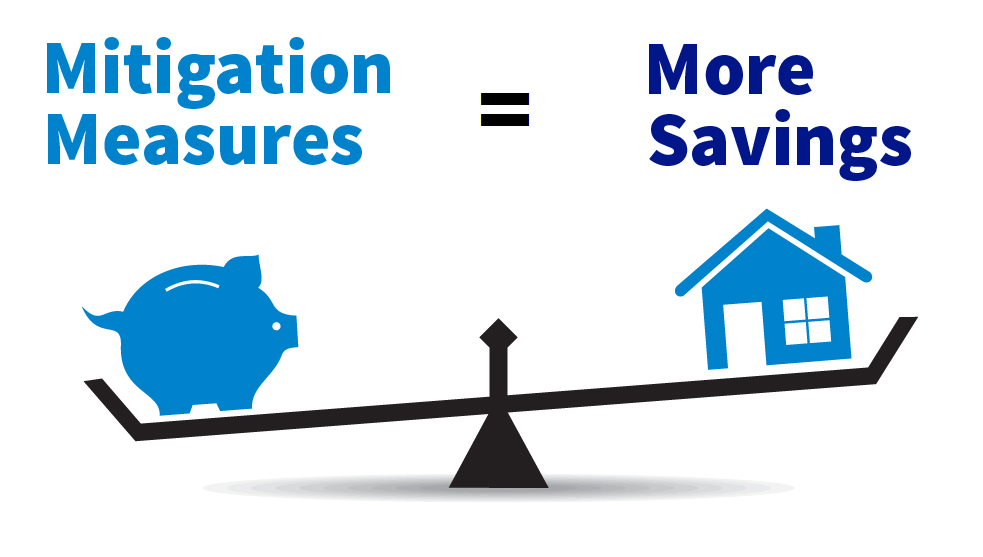 Hazard mitigation actions are most effective at reducing loss when they are based on an inclusive, comprehensive, long-term plan that is developed well before a disaster occurs. The implementation of hazard mitigation actions leads to building stronger, safer and smarter communities that are better able to minimize injuries and damage from future events.