The Update Process
In mitigation planning, as with most other planning efforts, the plan is only as good as the process and people involved in its development. The County's update process utilizes a multi-step, whole community approach to hazard mitigation planning that recognizes that government alone is not enough to meet the challenges of building safer, stronger and more resilient communities.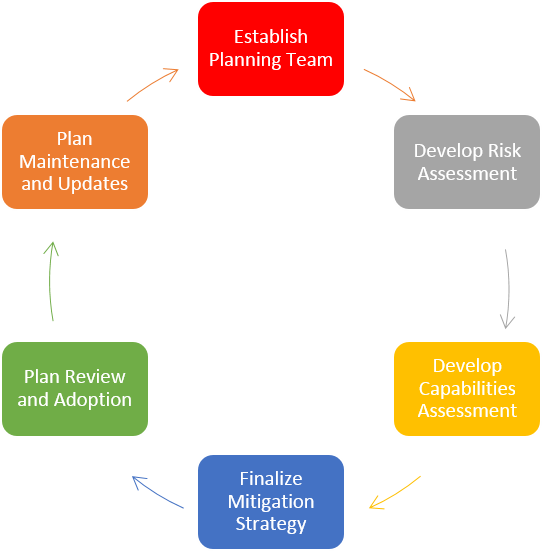 Follow the progress of the current plan update on the timeline below. 
Phase 1: Establish the Planning Team
Assembly of the core planning team and confirm commitment of the participating jurisdictions.

Collection of relevant studies, plans, and reports.

Assembly of a steering committee consisting of municipal representatives, and local and regional stakeholders that will help inform the process.

Assembly of communications resources and development of a strategy that allows the public to be involved throughout the planning process.
Phase 2: Risk Assessment
Identification of the hazards and the extent to which they can affect the County's resources and communities.

Collection and evaluation of scientific and historical evidence of past hazard events.

Assessment of the hazard impacts and future probability of occurrence.

Ranking of hazards from highest threat to lowest threat.
Phase 3: Capabilities Assessment
Describe the existing authorities, policies, programs and resources available to accomplish mitigation.

Identification and assessment of local capabilities that currently reduce disaster losses or could be used to minimize future losses.
Phase 4: Develop & Finalize the Mitigation Strategy
Evaluation and revision by the planning team of goals, objectives, and past mitigation actions.

Identification of appropriate new mitigation techniques, and prioritization of mitigation actions and projects in the revised mitigation strategy.

Describe how mitigation actions will be implemented and administered.
Phase 5: Plan Review and Adoption (Target = Spring 2022!)
Circulation of the draft plan for public comment.

Review of plan by the County Board of Supervisors.

Submission of the plan

to the State Office of Emergency Services (Cal OES) and FEMA for review and approval.

Adoption of the final, approved plan by the County Board of Supervisors.

Adoption of the approved plan by the governing bodies of the jurisdictions (cities and special districts) that are partners to the plan.
Phase 6: Plan Maintenance
Implementation of the approved plan by all of the planning partners. 

Maintenance of the plan, including m

onitoring, evaluating, and updating the plan throughout its five-year life cycle.